NOTE: It's been a while. Whoops.
While traveling the East Coast looking for colleges, I spent my spare time
not
having an existential crisis reading memoir-ish books. One of them was
Is Everyone Hanging Out Without Me? And Other Concerns
by Mindy Kaling.
Now I've never seen
The Office
or
The Mindy Project
but I just might have to now because WOW she is hilarious.
This book had so many good things going for it, I'll just list the bigger ones for you.
Straight up hilarious.
If I could repeat this seven billion times, I would but that would bore you. Kaling just has this great diction/voice to her writing style that instantly endeared you to her. Her whole book is like a friend telling you something stupid they did and you're allowed to laugh while still remaining their friend.
Me the entire book
Amazing interspersed pictures.
I, for some reason, hate little packets of pictures in the middle of biographies/memoirs, so when this book had pictures of Kaling's childhood and her Broadway life, and selfies from her Blackberry throughout, I was ecstatic. Plus, pictures always make better sense in context, so it's awesome the book does that.
Inspirational
. She details her rise to stardom, playing Ben Affleck and Kelly Kapoor and writing for
The Office
as the only woman writer on staff, along with essays about her childhood stories and friends in a hilarious and self-deprecating way. Truly inspiring.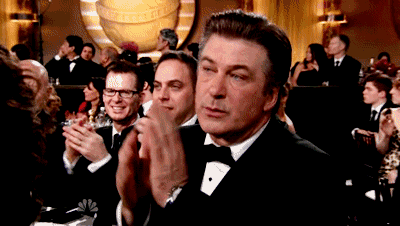 But yes, definitely pick up a copy of this book and read it and laugh. The essays are charming and funny and cute and awesome so read them all and enjoy.
Giving this book a 30/30! For teh lolz.
Farewell!
Owyn